Now Pay for Your Emirates Tickets via Easypaisa Account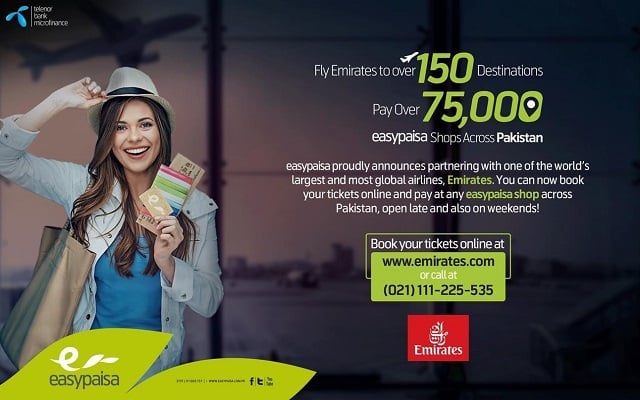 Easy Paisa, a project of Telenor Pakistan and Tameer Microfinance Bank  has introduced a ground breaking digital solution in transportation industry to streamline the process of Online tickets payment system. Now Pay for Your Emirates Tickets via Easypaisa Account.
Also Read: Easypaisa Makes Online Donations Swift by Introducing 'Donate Online' Portal
Easypaisa has collaborated with one of the world's largest and global airlines Emirates. According to this partnership, people can book tickets online and pay at any Easypaisa outlets across Pakistan. This is a very good initiative for people who don't have access to airports or cannot pay online.
Now Pay for Your Emirates Tickets via Easypaisa Account
By this initiative Easypaisa plans to bring rural population towards digitization which in no time will give very positive and fruitful results. Easypaisa's valuable progress will also bring reforms in transportation industry.
Easypaisa, Pakistan's leading Mobile Financial Service provider has more that 75,000 shops across Pakistan which are open late and on Weekends too to provide ease to its customers.
Easypay provides a bundle of secure, centralized and convenient online payment options available to everyone, and anywhere across Pakistan. Since its launch last year, Easypay has been rapidly growing and providing secure online payments to the booming e-commerce industry.
Telenor Microfinance Bank has revolutionized the financial landscape of the country through ground breaking digital financial services. The bank's mobile banking service Easypaisa has been instrumental in empowering the society by ensuring their inclusion in the fold of the country's mainstream banking and financial system.
Note: To book tickets online go to Emirates or call at (021) 111 225 353.
Also Read: EasyPaisa Launches Digital Loan Service: Here's How to Avail it