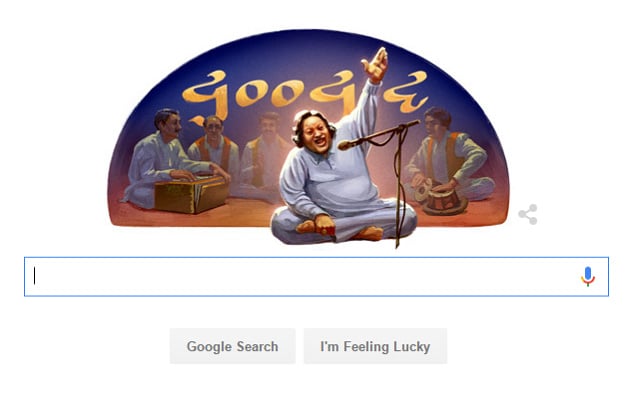 Google is honoring the legendary Ustaad Nusrat Fateh Ali Khan, the 'king of kings of Qawwali' on his birthday by displaying his Doodle on Google's homepage for Pakistan and India today. Keeping up with the tradition, the late singer has his own personal Google Doodle for the special day. In the present advanced socially connected world, tributes can be paid more easily. That is why Google has chosen to pay the tribute through Doodle in both nations; where the work of Ustaad Nusrat Fateh Ali Khan has been greatly admired.
Ustaad Nusrat Fateh Ali Khan was an internationally acclaimed music legend. He was born on 13 October 1948 in Faisalabad, Pakistan in a Punjabi family. He presented Pakistan on all international musical platforms and earned a good fame for Pakistani nation.
Google Pays Tribute to Nusrat Fateh Ali Khan on 67th Birth Anniversary
Nusrat Fateh Ali was a singer of Qawwali and considered one of the greatest singers ever recorded in the history as he possessed a six-octave vocal range and had the ability to perform at a high level of intensity for several hours.
According to Guinness Book of World Records, Nusrat Fateh Ali Khan holds the highest number of Qawwali albums released so far which is, almost 125; which is a huge achievement. He was among those shining stars who were awarded pride of performance in 1987. The great legend died of cardiac arrest in London on 16 August 1997 at the age of 48.