Facebook Launches Facial Recognition Feature in Pakistan
Facebook's facial recognition feature is very famous but was not available in Pakistan since its inception. Finally Facebook Launches Facial Recognition Feature in Pakistan. Pakistani users are getting  notifications seeking permission from them if they will like to apply a safeguard protection on their current display pictures.
Facebook Launches Facial Recognition Feature in Pakistan
Facial Recognition feature was actually rolled out by Facebook by end of 2017 as step to raise precautionary security measures to cater ever increasing fake profiles and stolen images. This feature helps to restrict hacker from downloading users's Display picture as well.
Here is the notification that Pakistani Facebook Users received: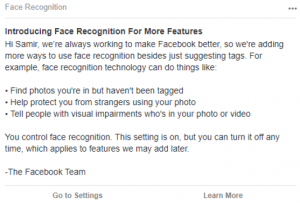 The best thing about this new feature is that when anyone among your friends will upload image of that users of group image in which that person is present, he/she will receive notification regarding it.
How To Enable/Unable The Profile Guard
If you have not already received a notification from Facebook, here's how you can enable and disable the profile guard on your profile.
Step 1- Open 'Settings'
Step 2- Click on 'More'
Step 3- Select 'Privacy Shortcuts'
Step 4- Click on 'More Settings'
Step 5- Select 'Facial Recognition'
Step 6- Select 'Do you want Facebook to be able to recognize you in photos and videos?'
Step 7- Select 'Yes' or 'No' accordingly
I was anxiously waiting for this facial recognition feature from Facebook, being surrounded by many hackers. So am extremely happy to get it. Let us know in comments that have you all received the notification as well?
Also Read: Facebook Introduces New Feature in Pakistan to Help Increase Blood Donations