Now Plan Your Big Day With Careem Shaadi and Get Hassle Free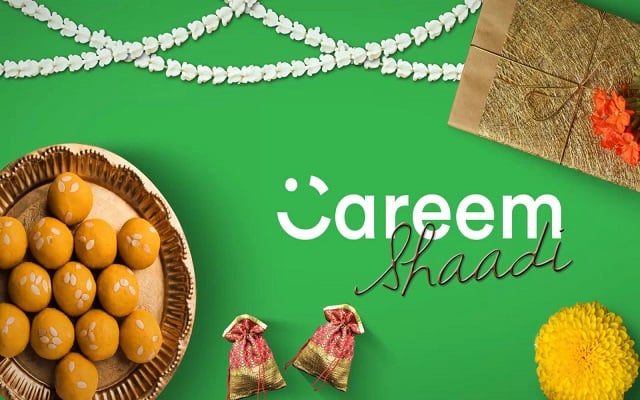 The Ride hailing service Careem keep on introducing new ideas to ease their users. Previously the online cab service has come up with Rishta Autni who helped people to find the perfect match. Apart from other exciting service Careem also introduced Bakra-on-Wheels, Qurbani Hides, Careem Air etc. Now Plan Your Big Day With Careem Shaadi and Get Hassle Free.
The new concept 'Careem Shadi' is unique idea for people getting married soon. Our of other major arrangements on marriages, one big arraignment in our desi weddings is to provide transport facility to the guests who have come from far flung areas. Keeping in view this custom, Careem has introduced Careem Shaadi packages for their clients.
Now Plan Your Big Day With Careem Shaadi and Get Hassle Free
Careem Shaadi has customized travel packages to help you with your transportation needs. Careem will specially take care of everything- from the moment your guests land to the minute they leave. The ride hailing service will act as family to make you wedding a memorable day with their newly designed feature, Careem Shaadi.
Careem Shaadi Packages:
Careem has launched three packages to win  customer's heart. The packages are listed below:
Hamara Promo
Mehamaan Nawazi
Ham Bil Day Chukay Sanam
Hamara Promo:
Humara Promo is for couples who aren't satisfied with regular invitation cards. Add some zing to your shaadi invitations & give your guests a personalized promo so they can take a free ride to/from your wedding!
Mehmaan Nawazi:
Mehmaan Nawazi is a package for all those who are tired of giving out mithai and want to indulge in something sweeter on their shaadi – and what's sweeter than
Careem credits?
Hum Bil Day Chukay Sanam:
Ham Bill De Chukay Sanam is for the busy, on-the-go types, who have no time to handle cash and credit cards. Buy this package by paying for your and your guests' rides in advance.
Customers who have availed these packages are extremely happy with the services which can be viewed on Careem official page.
While talking about Careem Shaadi,  Junaid Iqbal, MD Careem Pakistan, said:
Careem is all about affordable convenience and simplifying the lives of people. Weddings can be stressful but relax, we are here to help out. With Careem Shadi service you can concentrate on enjoying this special time and leave the logistics of transporting guests and family to Careem.
In order to book Careem Shaadi for a marriage ceremony, fill out this form. For more information regarding Careem Shaadi click here.
Also Read: Careem vs Uber-A Comparative Analysis of Services, Fares & Marketing Campaigns