Samsung to Make an iPhone X Style Phone Notch
Samsung is experimenting time to time with it's smartphones, sometimes with the design of phone and some times with the interface. Now this time Samsung is going to introduce it's next flagship with a iPhone X Style Phone Notch on its front screen as previously we found in iPhone X.
With Chinese patent organization SIPO, Samsung has recently filed a patent application (PDF) that indicated a few different phone designs, each device has a notch above the screen. The application for patent was submitted on 30th March. The patent was first discovered by Mobielkopen.net.
Samsung is about to Make an iPhone X Style Phone Notch
In the patent application, the phone looks like Apple's iPhone X in design and in some other features too. This new device by Samsung has a dual camera setup on the back, there is no physical fingerprint scanner. Other than that the patent shows that a screen has stretched to all sides on the front. There is a small rectangular cutout with the front camera, earpiece and other sensors, above the screen of the phone.
You can see the pictures below: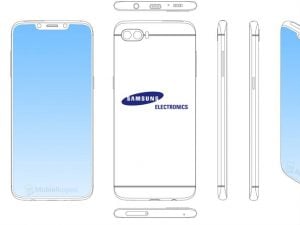 We can say that notch is in the latest trend. Many other smartphone manufacturers have launched or confirmed the launch of phones with notches like Asus, Huawei and OnePlus. However, it also to be expected that the LG G7 will adopt the design too. It is in the news that Google is going to support the notch in its upcoming Android P software.
However, the patent shows that the Samsung next flagship will iPhone x have but still it not confirmed and no one can guarantee that the phone will be release with same design. This is only a patent filing and there is no official pronouncement of future designs.
Read Next: LG G7 will Come with Optional Notch Display