Careem Response on How Careem Captains in Pakistan are Sexually Harassing Girls: Updated
Taxi-hailing apps, such as Uber and Careem, were welcomed in Pakistan with a healthy dose of scepticism. The rental and private car services proved to be popular among many who want to travel safe — that is, until, reports of harassment by drivers began to emerge. Careem Captains in Pakistan should be given some proper training to stop the ever-growing sexual harassment incidents.
Careem Captains in Pakistan are Sexually Harassing Girls
The latest allegation comes from a young girl in Islamabad who claims to have been harassed by a driver of Careem after using the service to get somewhere. The girl, who reported the incident requesting anonymity, said that the Careem Captain took vague rout and took her to the wrong place. When she asked him to follow the GPS he said the roads are closed.
Here is what girl told about the Careem captain: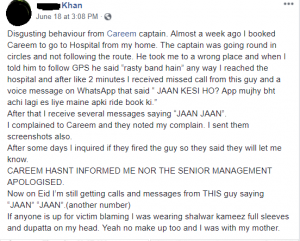 It is ironic, that Careem doesn't take any action against such captains who are not only playing with their name but would be the reason for someone quitting this ride-hailing service.
This is not the first time we have heard a story like this, there are plenty of incidents where Careem Captian took advantage of alone girls travelling with them. Surprisingly, even with the safety precautions promised by the companies, women tend to face some terrifying situations.
Here is the evidence of Careem captain saying "i Love you" and "Jaan".
So Gulshan is the name of this captain. However, as she took the screenshot after the ride ended, the number is not mentioned.
I have intentionally disclosed the phone number of Careem Captain because team Phoneworld believes in "As you sow so shall you reap".
On the other hand, Careem ensures "safety and security of customers is their top priority".  Here's what Junaid Iqbal said when the service was newly launched:
At @CareemPAK Nothing is more important than the safety and security of our customers

— Junaid Iqbal (@JiqbalPK) June 27, 2016
Every captain goes through an exhaustive background check conducted by RCS, part of Pathfinder (SMS, Wackenhunt)

— Junaid Iqbal (@JiqbalPK) June 27, 2016
Captain's are given training on soft skills/harassment and we have a zero tolerance policy towards unacceptable behavior

— Junaid Iqbal (@JiqbalPK) June 27, 2016

However, this is not the first case of harassment by a Careem driver. A staff member of Phoneworld, who wishes to remain anonymous, also received calls and Facebook messages from a Careem driver after using the services.
We request Careem to please do something to stop it at their end.
Careem Response on How Careem Captains in Pakistan are Sexually Harassing Girls:
Just two days after this post was made public, Careem approached us and ensured that they have fired the driver and listed him to block list so that he can never join Careem again.
No doubt, it's a very good initiative from Careem that they catered their customer in this best possible way. Here's what an Careem told us about the whole incident:
"For Careem, the safety and security of our customers are of utmost importance. As soon as we received the complaint, swift action was taken to investigate the matter. The captain has been permanently blocked and will not be allowed to work with Careem again. Our support team also reached out to the customer and briefed her of the measures taken. We take pride that over 70% of our customers are women and we are fully committed to providing safe rides to our users."
An official from Careem also revealed to us that they give proper training to the Captains before onboarding them, however, one dirty fish always pollute water.
We thank Careem for taking such swift action against the captain. It shows there concern towards their customers. They have also approached the customer who lodged this complaint and ensure her that this incident will never happen again and also told her to take precautionary mesures to stop such incidents from happening again.
All the complaints at Careem are taken seriously and necessary actions are taken to ensure safety. This incident is also a message for all other captains at Careem who plan to indulge in such activities.
Also Read: Careem Pakistan is Charging More in the Name of Monthly Packages