10 Best Spotify Alternatives You Should try in 2022
As the name suggests, this is a guide for people who are looking for 10 Best Spotify Alternatives. For those who do not know what Spotify is, it is a music streaming app like a sound cloud. Launched in 2008, the app got too much popularity due to loads of audio music albums downloaded there. It is a free app, as all the basic features are free with advertisements or automatic music videos. Whereas additional features, such as improved streaming quality, are offered via paid subscriptions. There are many paid and free Spotify alternatives.
Well, people who love music would know how it feels like listening to a song somewhere and later on finding it on Spotify but it is not there. So now you need to shift to its alternative, hoping that you will find the particular song there. Music is a full-fledged industry, where a lot of money is made via music distribution. Well in the costly world where people are earning much by distributing music Spotify is an app with the best music library and recommendation system.
These are the Apps like Spotify
Spotify and Sound Cloud are two big names when it comes to audio music streaming sites but sometimes you get bored by using a single platform and might be thinking of shifting to others. So this guide will be very helpful and help you find the best audio music streaming app. Though there are plenty of apps like Spotify however we have listed the top 10 after serious consideration and industry analysis. So here's our list goes:
Apple Music:
This name wouldn't be new for many people as it is the most popular music streaming service like Spotify. Having more than 50 million paid subscribers, it is a good app however it is stilling lagging behind Spotify. You can access to 50 million songs by logging in to Apple Music. One can also synchronize iTunes library and upload their own music library to the audio streaming platform.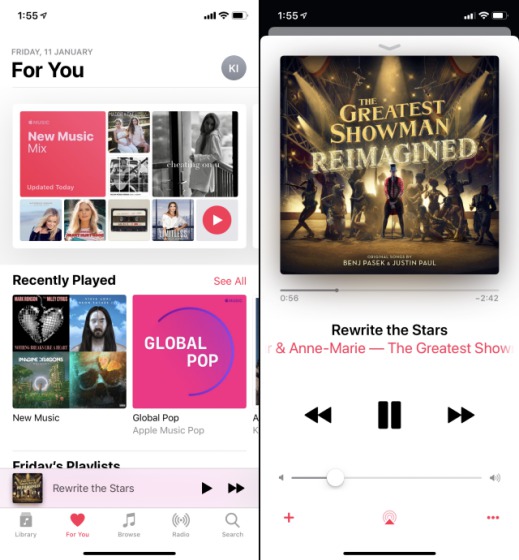 This app allows you to choose between free, monthly subscription and cheap plans for students and some family plans are also designed to facilitate people with fewer charges.
Download Apple Music on Android and iOS by clicking here.
2) Youtube Music:
YouTube does not need any introduction but it can be referred to as Spotify Alternative, in fact to me, it is the competitor even performing better than Spotify. YouTUbe Music is available in more than 17 countries and has even more user base than Spotify. It is the only app, which covers each and every song even from an unknown singer. This is a good alternative to Spotify.
The only problem with YouTube Music is the pop-up ads which are very annoying. Tough another frustrating problem with this app is that one can not turn the screen off without the music cutting out. In order to get the paid version, you have to pay $9.99 per month that will let you get rid of adverts and also let you listen to a song on your phone with the screen turned off.
In order to download YouTube Music on iOS and Android, click the respective icon.
3) Google Play Music:
This is one of the best apps for streaming music as it comes preinstalled on Android devices. One can get access to 40 million tracks of different languages from this app which suggests that this App is for everyone. It has affordable family plans so that more people can easily afford it.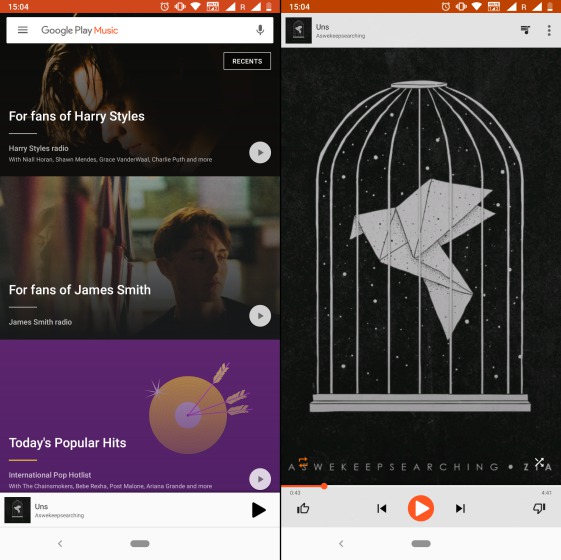 A good thing about the Google Play Music app is that it gets to know about your music preferences with time and later on give you similar suggestions. This app also allows you to switch from YouTube videos to this audio player. It is a user-friendly app and should be used as an alternative to Spotify.
4) Amazon Music:
This is the most useful music streaming site where one can find almost every song. Operated by Amazon.com the app has a clean and neat interface and is easily understandable. The best thing about this alternative of Spotify is that in it one can also download songs in offline mode so in case you don't have an internet connection and you are getting bored, you don't need to worry. Just play your favourite song even in offline mode and make your mood better.
Amazon Music is available in eleven countries facilitating people with their choices.
One can get Amazon Music on android and ios by clicking on the respective button.
5) Pandora:
Pandora is a very famous music listening app nowadays due to its unique nature. It is more like a custom radio station where users create stations based on stylistic similarities between songs and artists, and then Pandora's algorithm plays music that matches those stats. It has been around since 2002 and currently boasts close to 75 million active users, even though it's a pioneer of the streaming industry.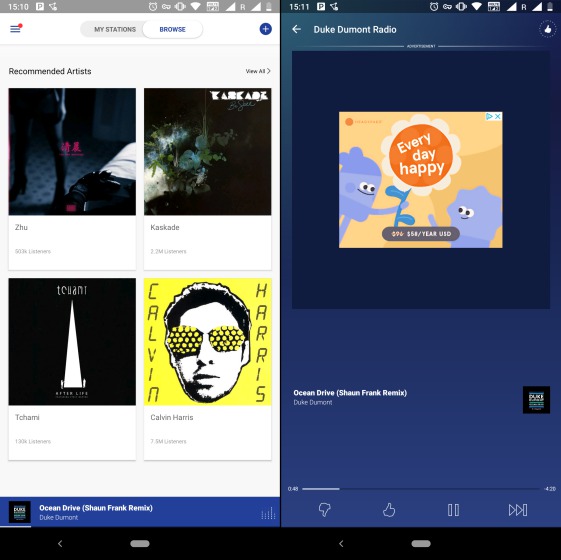 If you want to put music in the back, while doing something else, Pandora is the best choice for that. The monthly subscription fee for this alternative to Spotify is $9.99 per month.
In Order to download Pandora for Android and iOS, click on the respective icons.
6) Sound Cloud:
People who love music would know how it feels to find almost each and every track on SoundCloud. Just recently SoundCloud has hit a new milestone as it has now more than 200 million tracks. The "EyeRing" track of Artist Francesca Lombardo acquired the position of 200 millionth track that is uploaded to this music listening service. TO me this is one of the best music streaming App used by most of the people. It has each and every track one can ask for.SoundCloud GO+ also has Discounted Subscription for Students.
In order to download SoundCloud on Android and iOS, click on their respective icon.
7) JioSaavn
Jio Saavan is a very famous music listening app in India however it doesn't mean that it is not famous in other countries. Having loads of Urdu and Bollywood songs, this is the best app for people who are not interested in English songs. It doesn't mean that this app doesn't contain English songs, it has a collection of all songs but Bollywood ones are in large number.
The app has around 50 million songs Bollywood, English, Hindi, independent artists, and many different regional languages like Tamil, Telugu, Punjabi, and more as well. Believe me, you will not regret using it.
JioSaavn offers 90 days free trial however, later on, you have to choose from subscriptions that will enjoy your songs without ads. The app offers unlimited skips, download tracks and stream music at 320kbps if you opt to pay a little amount.
Download JioSaavn from  Android and iOS by clicking on the respective icon.
8) Gaana
As the name suggests this app is best for listing Gaanas, I mean songs. Tough it is far behind the Spotify but that doesn't mean that it does not have any good collection. This audio streaming service offers a large collection of around 30 million Bollywood and English tracks. Being an Indian app, it also hasTamil, Telugu, Marathi, Bhojpuri, Punjabi, Malayalam, and more. This spotify alternative for iPhone is the best one can try.
Graan has a simple UI that makes the app user-friendly. The app is free but also offers the ability to buy the paid subscription for offline downloads.
One can download Gaana from Google Play store or Apple App store by clicking the respective icon. Android and iOS.
9) TIDAL Music
It is another music streaming service which is owned by a famous rap star Jaz-Z. It has a vast variety of Music and the service is striving to provide the highest quality of Music.  This app makes a user feel close to the developer of the song as almost all the developers add their music on this site.
In order to download TIDAL Music on Android and iOS, click the respective icon.
Top 9 Alternative to Spotify  You Can Try (2020)
Tough Spotify is the most famous audio music streaming app, it doesn't mean that other apps cannot provide the same services. In fact, all the music streaming apps are providing the best ever services to their customers by incorporating a large variety of Music albums.
Well don't forget to try the alternatives of Spotify shared by us but if you have some better Spotify alternatives options, let us know in comments below.