10 Best Android Tower Defense Games
If you are a gamer you would know how much one can crave for a good Tower Defense (TD) game. Here is a list of the 5 best TD games for android you can play and enjoy. Not only kids but grown-ups can also enjoy these easy-medium-hard difficulty tower defense games. As long as you enjoy them you need not think of what age group you belong to!
10 Best Android Tower Defense Games
1. Kingdom Rush
Kingdom Rush is a Free, offline Tower defense game. It consists of a fantasy storyline with majestic towers and hero helpers with various superpowers to help you out. It is one of the best and moderate to difficult TD games.
Every level represents a pre-determined route with empty slots all over the place, known as 'Strategy Points', where the contestants can build towers. There are 4 types of towers including Mages, Archers, Barracks, and Artillery. In order to build and upgrade any tower, you will need a certain amount of energy. At the start of each level, the contestants obtain some energy to build the first towers. As rivalries start to emerge from one end of the path, the towers must destroy them before they reach the other end of the path which is called 'defense point.' The player will also be dependent on a few spells and protagonists to help the towers. The main motive of the game is to kill enemies and generate money that can readily be used to build and upgrade towers
Download Here: link
2. Clash Royale
Clash Royale is an online, free tower defense game. It is a very unique TD game. Clash Royale is a multiplayer game with a variety of card players to choose from and build an army to fight other players online. There are a lot of fun game modes, card upgrades, and emotes.
Clash Royale is a tower rush video game in which two or four players (1v1 or 2v2) take part.  The main objective is to annihilate the most opposing towers. Though, if you are able to destroy the "King's Tower," you will instantaneously become triumphant in the game. After three minutes time period, if both of the contestants have an equal number of crowns or none at all then the match is extended by 2 minutes. And the player who destroys the tower of his rival wins the game. If no player manages to destroy towers during overtime, there is a tiebreaker in which all towers quickly lose health, and the tower with the least health is destroyed.
Download Here: link
3. Tower Defense King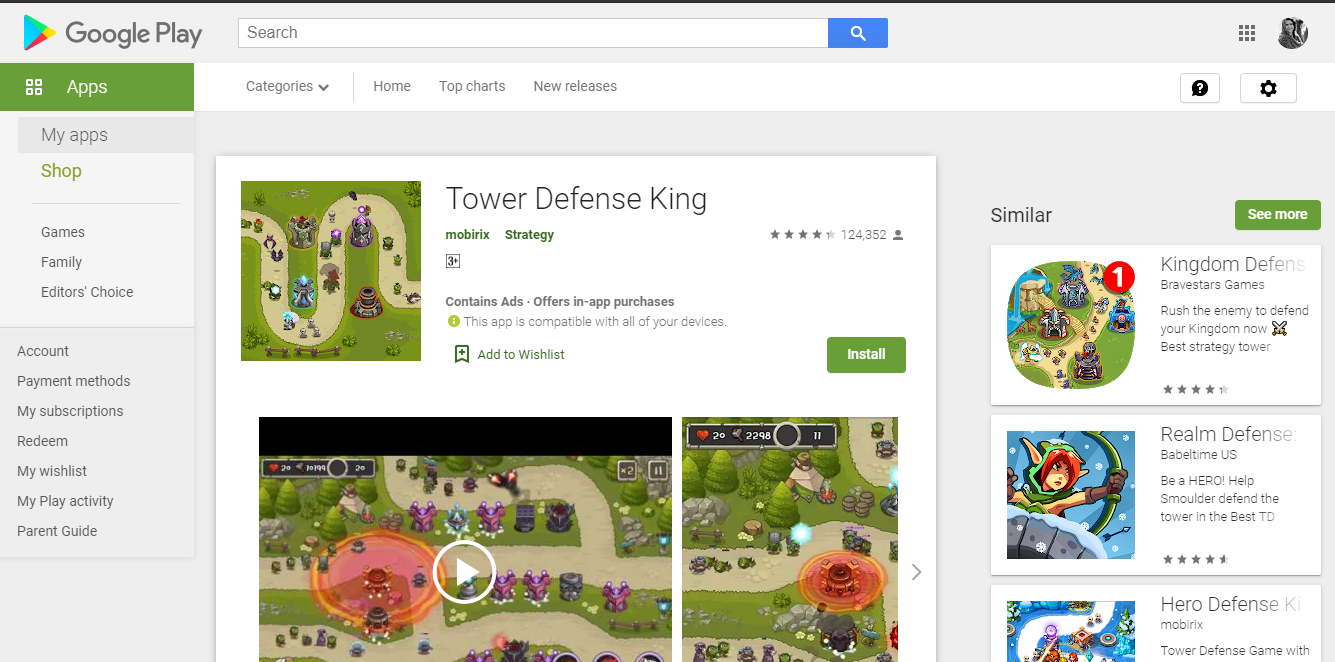 Tower Defence King is a Free, offline Tower defense game that is really exciting and fun to play. It is also a magical journey of defending your towers and clearing level after level. A very exciting Tower Defence game for kids and elders. During the course of the game, you need to build a defensive line with lethal towers and ultimately defend your kingdom. Therefore, the destiny of the kingdom lies in your hands. So, play the best-selling Tower Defense game completely free of cost. There are a total of 25 maps with a number of different themes. There are three different modes to test limits, five grand bosses to counter you, 12 basic towers, and 9 special towers to increase tour strength and strategic choice.
Download Here: link
4. Clash Of Clans (best tower defense android games)
Clash Of Clans is a very complex strategical game. It revolves around the idea of building an army, fortifying your city to save it from foreign attacks, and at the same time attack others to win rewards. These attributes make it such a fun and addicting game.
During the game, the players need to make communities called clans. They also have to train the troops and invade other players to earn resources. There are a total of four resources or currencies in the game. Gold and elixir can be utilized to construct and upgrade defenses and traps that provide protection to the player's village from other players' attacks and to build and upgrade buildings. The dark elixir is utilized to train and upgrade troops and spells while the gems are the premium currency among all other currencies.
Download Here: link
5. Wild Sky TD: Tower Defence In Fantasy Kingdom
The Tower defense game meets a fantasy world with minion spawning rifts in Wild Sky TD! Play with friends to raid boss, build your army and upgrade your base defense with towers and heroes in this epic 3D tower defense game.
During the game, you need to build your own deck strategically to protect the kingdom against invading monsters. You will be required to form a strategy and solve unique puzzles in order to advance in this game. The main motive in the game is to defend the mines and unlock ever-greater wealth and resources. Furthermore, you will also have the option to fight in events and tournaments for different types of rewards. So we can say that it's an exciting game to play and you can download it from the link mentioned below.
Download Here: link
6. Bloons TD 6:
The Bloons TD 6 is one of the most popular and exciting tower defense games for android. It was launched back in 2018. The game is comprised of 20 maps, a number of upgrades, 19 towers, three upgrade paths, offline support, new game modes, and much more. The former versions of the game also impressed the users as well and some of them still get the latest updates. It is one of those games which have been updated by their developers even after years of their creation. We can say that the whole series of Bloons TD is comprised of great defense games that are available at reasonable prices.
Download Here: link
7. Plants vs Zombies 2 (best tower defense android games):
Plants vs Zombies 2 is one of the most popular tower defense games that you can enjoy on the Android operating system. And I'm sure that most people will be aware of Plants vs. Zombies 2. During the course of the game, the players will have to defend lawns throughout time and space against fierceful zombies.
The whole game is themed around an attractive storyline in which your friend lost the way in time and space, and you will need to travel through the time in order to save your friend. You must be laughing after reading the storyline as it is a bit dramatic. Luckily the gameplay is so easy to grasp that the ridiculous story can be sidelined. Moreover, if you are really fond of tower defense games then you should definitely give Plants vs. Zombies 2 a try. However, one thing you must make sure of before playing the game is the numerous in-app purchases embedded in the game by Electronic Arts.
Download Here: link
8. Radiant Defense (best tower defense android games):
Radiant Defense is a comparatively older game, but the developers are still updating the game, which implies that you don't have to worry about anything such as device compatibility for a seven-year-old release. You will find the neon-based graphics very rich and striking, and the gameplay works really smooth as you would expect.
During the gameplay, there are a total of fifteen missions that you will need to accomplish to win the game. In addition to that, there are 300 waves of rivals to engage, a total of nine upgradeable weapons to choose from, along with then three superpower weapons that can lead to chaos and massive devastation. The game even operates on the Nvidia Shield, which implies that controller support is included. Honestly, radiant defense is one of the best tower defense games on this list and many classical game lovers will surely like this game.
Download Here: link
9. Mini TD (Classic Tower Defense game):
Most of you might have not heard about Mini TD, but it's one of my favorite choices in tower defense games. The graphics are very low and minimalistic, but in my point of view, that keeps things simple, so I can only focus on building my towers. It's also important to mention that this is a premium version of the game and doesn't contain a single in-app purchase, though there is ad content in this game.
Luckily we have a solution for you as you can remove these advertisements through an IAP. There are a total of 40 levels to explore with four different types of towers on offer, which may not last players as long as some of the games on today's list, but at least you won't be worried that you wasted money on the game just to progress. So conclusively it's a simple game with minimal graphics but interesting gameplay.
Download Here: link
10. Infinitode 2:
Infinitode 2 is another exciting tower defense game on our list. It is the sequel of the popular Infinitode tower defense game. As expected from the developers the sequel has improved in almost every aspect including graphics, gameplay, storyline, etc.
It also implies that the new TD game sequel is fully optimized for mobile play.  During the course of the game, you will have to accomplish a total of 40 levels. In addition to that, there are a number of upgrades for your weaponry.  One thing you might not like about this game are the graphics that are pretty average, however, the quality gameplay covers that up. The game already provides a number of weapons and tools for free so you don't have to worry about various in-app purchases like you would in the majority of games these days.
Download Here: link
Conclusion:
The above-mentioned list is made after a detailed survey, If you like our list or have any queries regarding it, do share them in the comment section!
Read Also: Best Open World Offline Games for Android