6 Best Smartphones Under 45,000 PKR in Pakistan
These Mid Rangers Offer the Best Bang for your Buck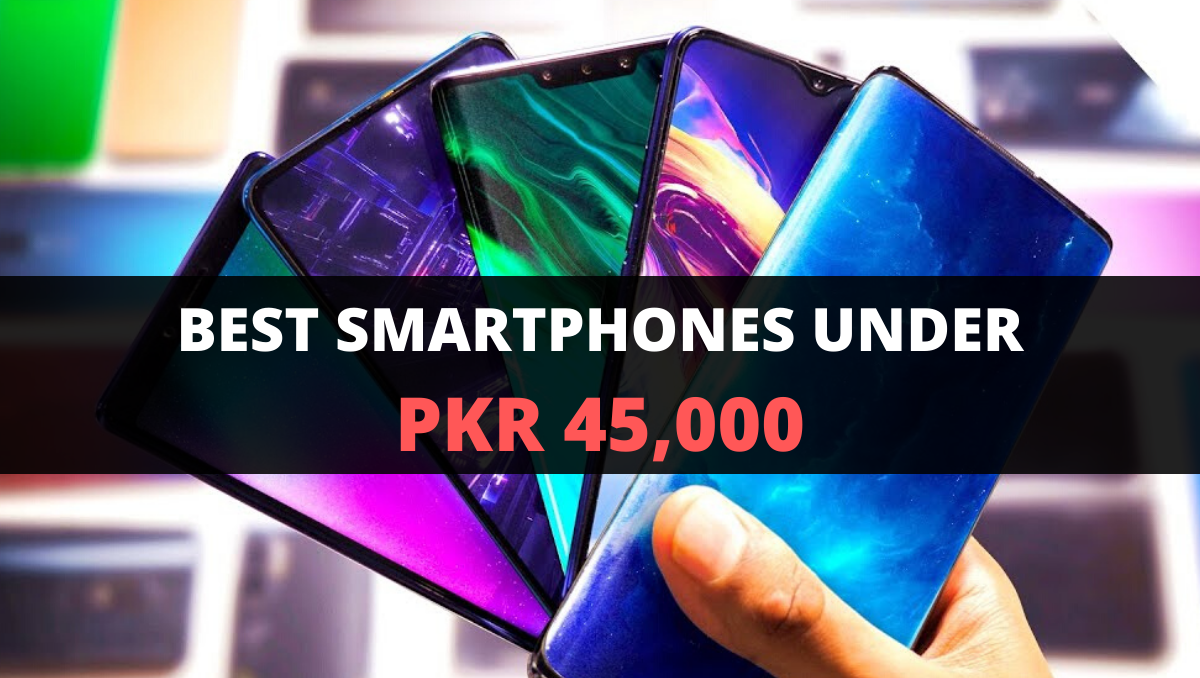 The affordability and popularity of each smart-device vary, according to the purchasing power of consumers in different regions, countries or market segments. Credible global ranking criteria, based on features, performance and price-range, enables consumers to purchase the best-suited cellular-devices, to fulfil their individual needs without exceeding their budgets. In Pakistan, a large segment of consumers is interested in the ranking of mid-range smartphones under 45000 particularly, that they can afford more easily and is worth the buck.
Best Smartphones Under 45000 in Pakistan
So worry not, as we have compiled a list of top-notch mid-range devices that have come out this year.
Redmi Note 9 Pro – Best Smartphone Under 45000
In June 2020 (and onwards for now), the Redmi Note 9 Pro is the best smartphone that you can buy in Pakistan for under Rupees 45,000. If Realme would have launched their "6 Pro" for under 45000, that would have been our first choice. Right now, the Redmi Note 9 Pro matches the price of the "Realme 6 8GB Variant" and compared to that, in our opinion, we think the Redmi Note 9 Pro offers slightly better value.
Okay, the first paragraph was just to explain our selection between the top 2 as we all know how good these two are. The Redmi Note 9 Pro is recently launched in Pakistan and is available both online and offline throughout Pakistan for PKR Rs.45,000. It is available in 3 colours i.e. Tropical Green, Interstellar Grey and Glacier White.
Design and Build
Hands down! Redmi Note 9 Pro tops the list of best-looking smartphones under 45,000 in Pakistan right now. It feels nice in the hands and offers that premium look and feel, thanks to the Glass Black (instead of plastic). Although it isn't waterproof entirely but is somewhat splash-resistant.
The quad-camera setup (in black colour) at the back is positioned really well, enhancing the aesthetics of the device. And at the front, right in the middle it as a tiny punch hole just like the Samsung Note Series. The fingerprint is located on the right side where the thumb sits naturally. It is both fast and accurate all the time.
Here's the First Look and the Unboxing of the Mid Range Champion
Performance, Cameras and Battery Life
Redmi Note 9 Pro has an upper mid-range Octa-core processor i.e. the Qualcomm's Snapdragon 720G based on 8nm process technology combined with a highly capable Adreno 618 GPU. Although the latest MediaTek gaming chipsets are efficient and powerful, we'd still prefer Snapdragon and Adreno any day.
The variant that we have over here in Pakistan offer's 6GB of RAM and 128GB of storage, which is plenty for a phone with the processor and the GPU mentioned above. Trust me, you won't notice a slight of a difference between a smartphone with 720G with 6GBs of RAM vs 720G with 8GBs of RAM.
At the back of the phone, you'd find the 64MP AI Quad Camera, with the primary sensor being the 64MP 1/1.72", 1.6μm 4-in-1 Super Pixel, an 8MP ultra-wide-angle camera with f/2.2 aperture, a 5MP macro camera and a 2MP depth sensor. At under 45,000, these lenses offer one of the best results for both images and video. At the front, the 16MP In-Display Camera is capable of capturing some decent shots with high dynamic range and clarity.
It packs a huge 5020mAh built-In non-removable battery with USB Type-C reversible connector port. It supports 30W fast charge and the best thing is that it comes with the 33W fast charger out of the box.
Overall, you get a decent package in a smartphones for under 45,000 in Pakistan. You can grab it from mistore.pk.
Realme 6 – 8GB
Realme 6 comes in at the second spot in our list of best smartphones under 45,000 in Pakistan. Realme has been one of the smartphone brands in Pakistan as well as around the globe that offers good value for money when it comes to making smartphones.
Although, the Realme 6 is just slightly overpriced (emphasize a little more on "Slightly" :D), as internationally it is priced a little lower price tag than what they have set it for Pakistan. Anyhow, it is still one of the best devices that you can get for under 45,000.
Design and Build
Though it is well built, looks and feels great in the hands, but the back is made out of plastic unlike the glass built back with Corning Gorilla Glass 5 protection found on the Redmi Note 9 Pro. Just like the Redmi Note 9 Pro, the fingerprint is located at the right side of the phone which is equally fast and accurate. It has the rare quad-camera setup placed in a verticle layout at the top left just like other Realme devices we've seen in the past. The Front-camera is basically a punch hole located at the top left of the screen which looks great too.
Here's the Full Review
Realme mentioned on their website that it has passed 10000 Drop Tests, 10000 USB Tests and 100000 Button Tests successfully. The Splash-resistant design offers ports and the loudspeaker grilled, equipped with seal and anti-dust mesh. It comes in 2 colours i.e. the Comet White & Comet Blue. Our favourite is the Comet White.
Performance, Cameras and Battery Life
Let's talk about the main highlight of the phone first, the 90Hz display. Well, I'd take a smartphone with the 90hz display any day if it has the same specs and price similar to that of the competition. There's a visible difference when a 90Hz panel is used against a normal 60Hz in terms of responsiveness. It was pretty hard to list the Realme 6 at the second spot as it is the only budget mid-ranger with a higher response rate display. But, we considered the looks and build quality as well to list it at the second spot (our preference though).
The Realme 6 has a MediaTek's latest gaming chipset, the Helio G90T, and surprisingly it exceeds the expectations that we had. When combined with the 8GBs of RAM it is capable of some serious gaming as well. Normal day to day usage is pretty great on all the phones listed here. It has a ROM of 128 GBs which can be expanded via Micro SD inserted in the 3-Card Slot up to 256GB.
The AI Quad Camera has a primary lens equipped with Samsung's 64MP GW1 sensor, a highly capable sensor to take bright and pure good photos even in low light. The other three lenses being the 8MP Ultra wide-angle, B&W Portrait and the 2MP Macro lens. The images are crisp and clear taken at day time and night images good enough to be shared on social media. At the front, it has a 16MP Primary camera with AI and plenty of modes and customizations. Both the Realme 6 and the Redmi Note 9 Pro offer mostly similar camera performance.
Realme 6 packs a 4500mAh battery with great endurance with fast charging capability up to 30W. The 30W fast charger comes in the box too which is great.
You cannot go wrong with either one of the two smartphones listed above for under 45,000 in Pakistan.
If for some reason, you want to skip the two mentioned above, these smartphones are worthy to be considered to buy under 45k as well in Pakistan.
Vivo S1 Pro
The reason we've placed the Vivo S1 Pro here in this list is just that it comes with decent specs but the highlight being the "Super AMOLED" display. Apart from Samsung, the Vivo S1 Pro is the only smartphone in this list featuring the gorgeous FHD+ Super AMOLED panel.
Design and Build
It is a gorgeous looking phone, thanks to the AMOLED panel, the fingerprint is In-Display and is reliable too. The camera layout at the back is pretty unique unlike that we've seen before, which is a good thing. Vivo calls it the "Diamond Quad Camera". It comes in at two colour variants, the Dreamy White and the Mystic Black.
Performance, Cameras and Battery Life
The 6.38-inch Super AMOLED display with approx 90% screen-to-body ratio has decent colours and offers good viewing angles. There's also an "Always On Display" option that you can customize, which is considered premium too.
Here's the Full Review
Vivo S1 Pro comes in with Qualcomm Snapdragon 665 backed with 8GB RAM and 128 GBs of ROM. You can even expand the storage to 256GB ROM Maximum with an SD Card. With the built-in Non-removable 4500 mAh battery, you can expect a full day usage without any problem.
The Quad-Camera setup has a primary lense of 48 MP, f/1.8, an 8 MP, f/2.2 ultrawide lens, 2 MP macro and 2 MP depth sensor. The Vivo S1's camera promises good performance both in daylight and low light situations.
HUAWEI Y9s
If you're looking for a great display amalgamated with stellar camera performance, then HUAWEI Y9s is for you. It offers the best display in its price segment with the 6.59" FHD+ Ultra FullView Display and 391 ppi that has been handpicked by people over others. Touting a powerful triple rear AI camera setup that includes a 48MP main shooter and an 8MP Ultra Wide-angle camera, it takes wide-angle shots and creates excellent bokeh effects thanks to its 2MP Depth Camera.
The Auto Pop-up 16MP Selfie front camera makes for stunning selfies. It offers 128GB of storage (extendable to 512GB via SDcard) with 6GB of RAM and has a long-lasting 4000mAh battery. Moreover, powered by Kirin 710F & GPU Turbo 3.0 this smartphone offers high performance and great power efficiency.
HUAWEI Y9s takes the cake here with the best display, good camera quality and a premium design & glass-build quality – in its price segment. Not only that, but it also has a side fingerprint scanner for easy and secure access to one's phone.
Oppo A9 2020
This device features some great specs that have caught our attention – mainly thanks to its 8GB of RAM, Quad Rear camera setup and a large 5,000mAh battery.
The device has a 6.5-inch HD+ IPS screen with a Corning Gorilla Glass 3 protection which is quite impressive, but the one downside is that it only has 720p resolution which is slightly disappointing given that the competition for this category is high offering better resolution.
The camera setup consists of a 48MP main shooter, 8MP Ultra Wide, 2MP Depth Sensor, and a 2MP Monochrome lens which provides decent quality images.
Overall, the OPPO A9 2020 is a good mid-range smartphone that looks premium, has a large display, decent performance, large RAM and storage, good cameras, and long battery life.
We've also got lists of best smartphones under 40,000 and under 30,000 then under 15,000 PKR that you might want to look into.
Samsung Galaxy A30s
The Samsung Galaxy A30s is a mid-range smartphone which covers all the basics quite well. While the display resolution of the AMOLED panel is somewhat a slight downgrade as compared to its predecessor, the triple camera setup, in-screen fingerprint scanner, and its beautiful back design is worthy of attention and thus makes it to our top Midrange smartphones list this year.
It sports a 25 MP, f/1.7 main camera, an 8 MP, f/2.2 Ultra Wide lens and an addition of 5 MP, f/2.2 depth sensor, allowing for beautiful portraits with Bokeh effect while the front-facing selfie camera is a 16 MP, f/2.0 camera.
It is equipped with Exynos 7904 Octa-core CPU with a Mali-G71 GPU and a 4,000mAh battery and 4GB + 64GB storage.
SEE ALSO: Smartphones Awards by PhoneWorld 2019
Final Words – Why not the Huawei NOVA 7i?
You might be wondering if we forgot to list the Huawei Nova 7i in the best smartphones under 45000 in Pakistan list. No, we didn't! We really liked the phone a lot, it offered amazing performance, top-notch processor, the Kirin 810 back with plenty of RAM, ROM and superb camera performance
BUT
It lacks GOOGLE SERVICES, unfortunately and that seriously is the DEAL BREAKER for us and it might be for you as well.
You won't have PlayStore, can't run Youtube App, Maps, Google Search App, Google Assistant, GMAIL and tons of more apps that are missing from the Huawei App Gallery currently. If it had Google Services, we would have placed it up at the top of our list.
If you want to know more about smartphones under different price ranges, you can visit the following links: